This Holy Month, Jumeirah Mina A'Salam's Parisian-inspired pastry boutique, Margaux, reveals its latest partnership with renowned Emirati artist, Abdulla Lutfi. Perfect for gifting this season, the collaboration features Abdulla's one-of-a-kind designs on limited-edition Ramadan boxes.

As a young and renowned artist on the Autism spectrum, Abdulla has transformed the packaging with artwork that features his distinct black and white style, in drawings synonymous with the season and Margaux. Encompassing Margaux's elegantly curated selection of decadent desserts, guests can expect a beautifully decorated box with an assortment of designs – from a local family to lanterns and crescents, all perfectly matched with a special touch of Jumeirah, featuring its signature abra and Burj Al Arab Jumeirah.

"Art is a powerful medium in our world and to pay homage to the Holy Month of Ramadan through my passion for art is truly an honour. It has been exciting partnering with Jumeirah Group on this design as they have helped me get one step closer to my mission of encouraging artists like me to find and share their unique style."says Abdulla
Whether you're looking for a sweet treat post-Iftar, wanting a gift box worth your Instagram feed or wishing to impress your loved ones with a charming Ramadan hamper, the limited-edition Margaux x Abdulla collection of gifts is everything you need to make this Ramadan special!
Ramadan Gift Hampers by Margaux
• Pistachio Cake
• Date Cake
• Box of Macaroons
• Box of Chocolate dates
• Mediants Chocolate Bars
• A jar of Vanilla Honey
• A jar of Hazelnut Praline
• A bottle of Sparkling Apple and Dates Juice
• Scented Candle
Price: AED 690

Allergens: some items may consist of the following Eggs, Dairy, Gluten and Nuts
Available until 22nd April | 48 hours advance notice required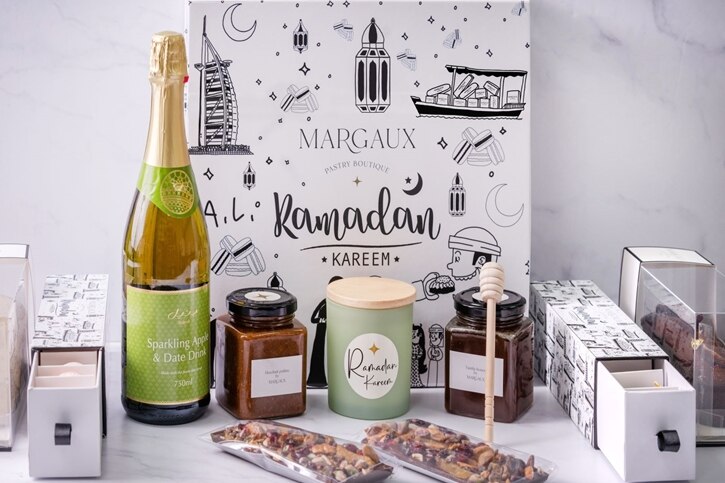 Limited-Edition Gift Boxes
Our limited-edition signature box is the perfect thank you gesture or simply a decadent sweet treat for your family and friends.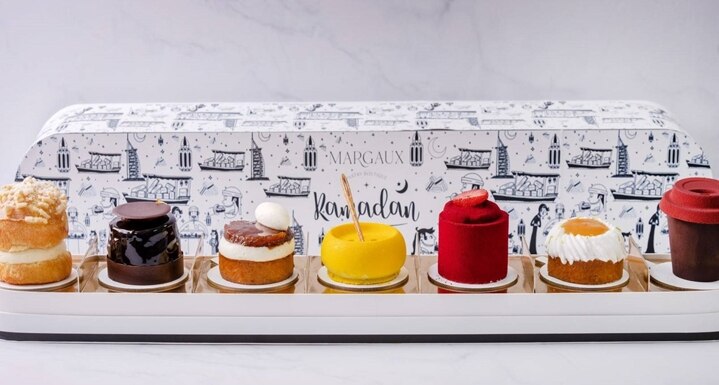 Price: AED295

Allergens: some items may consist of the following Eggs, Dairy, Gluten and Nuts